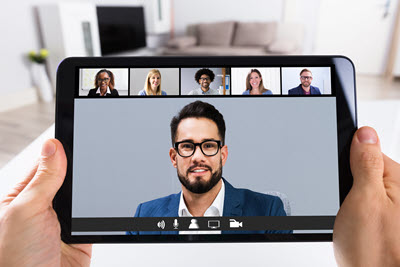 The COVID-19 outbreak has affected millions of people and many thousands of businesses in unforeseen ways. Working from home coupled with constant daily interruptions with different work hours is seemingly the norm. And travel? For now, forget about it. The travel industry is likely changing permanently as more business people avoid an aircraft's cylindrical Petri dish and become accustomed to video conferences without in-person contact. Like it or not, we live in a brave new world.
But, business must go on. Companies are navigating the challenges and doing their best to meet the needs/expectations of their customers. This includes the investment community. M&A is not going to stop, and may even accelerate as more businesses need help. Diligence on the target companies is still mandatory even with a changed way of working. As you, the investor, find new M&A opportunities, you may be wondering how technical due diligence (TechDD) can be done effectively in this new environment. At Cyligent, we are frequently asked how things will change and if effectiveness can be maintained.
How will Cyligent do technical due diligence?
Rest assured that Cyligent's evaluation of companies will continue to be held to the highest standard. The current business environment mandates that diligence is done remotely as travel restrictions will likely remain in place for some time. We have been doing remote TechDD for years. 2/3 of our diligence projects are done completely remotely as our business analytics show: 
How does remote technical due diligence change the process?
Firstly, forcing remote interactions does not change the outcome, provided you have an effective diligence partner like Cyligent. Our custom process revolves around people and relationships and is agnostic to whether sessions are remote or in-person. Being remote affects only the middle portion of the process – the interviews. Everything else is done remotely anyway.
Remote interviews come with caveats, however, but we easily address them.
Relationship building challenges. The Cyligent team is very well known for building a strong relationship with the target's leaders to make them feel comfortable during (and even enjoy!) the TechDD process. Although it is easier in person, building a relationship with a video conference is still completely doable. The same informal sessions, chit-chat about family and interests, and value-add commentary still apply. Leave the video conference running during lunch, and heck, even a post-meeting beer is doable remotely.
Time zone complications. The target's leaders realize the importance of the TechDD process. With a bit of give-and-take on both sides regarding timing, we have never run into an issue. We break meetings up into bite-sized chunks to keep everyone recharged, happy, and motivated.
Security concerns. Some customers are concerned about security during technical due diligence meetings, especially with recent Zoom security issues. Zoom (Cyligent's choice) has responded to these disclosures swiftly and transparently with updates that address the problems. We are confident in Zoom, but we are also willing to use whatever solution the target prefers. Tools never get in our way.
Attention deficit. Remote sessions may promote leaders fading away into their laptops when they are not talking. Video tends to curb this behavior, but at the same time, not everyone needs to be involved in all sections of the TechDD sessions. At Cyligent, our agendas clearly indicate which leaders must be involved in specific sections. We do have a knack, however, of keeping people interested, entertained, and involved during all aspects of the meetings. This is more of an art than a science.
Decreased TechDD duration. There is a possibility that the time we get for TechDD may decrease because marathon remote meetings are perceived as more difficult. If this happens, does this increase the odds of missing something during diligence? Only if we don't get the time we need to work through the scope. We accommodate this concern with fewer attendees in meetings (easier to wrangle schedules) and shorter meetings. Our approach also addresses the most important items first, so if time is limited by necessity, we can still uncover the red flags (but more time always reduces the risk further).
Are there benefits to remote technical due diligence?
While in-person meetings are generally more effective, there are also benefits to doing TechDD remotely. Here are a few:
Cost savings. Travel can be expensive. Remote sessions save on airfare, lodging, local transportation, and other costs.
Flexible scheduling. Short sessions are easier to schedule than long 1-2 day interviews on-site providing more flexibility for the target to fit in the interviews. The time between sessions also allows us to incubate on what we heard and have a more strategic follow-up.
Accommodating remote workforces. We live in a distributed world and many companies cannot find enough talent locally. Most companies Cyligent evaluates have remote workers. Remote TechDD meetings accommodate this organizational make-up more effectively than bringing people on-site. An estimated 95% of our on-site diligence efforts have people calling in for various sections anyway.
Easier investor participation. Not all investors want to be involved in the TechDD interviews, but for those that do, remote sessions are far more convenient. Our investor partners have chaotic schedules as it is, so traveling on-site is rarely a luxury they have for TechDD. A bonus is that remote meetings can be recorded for later viewing!
Video has become easier. With the COVID-19 situation, many people are using video meetings and have gotten much more comfortable. Virtual backgrounds for video make people more comfortable and avoid airing their dirty laundry (literally).
Don't let perceived restrictions on technical due diligence slow down your investment process. The current remote economy can even help speed it up! Results will be as effective and efficient as ever, and in some cases, perhaps even better.